(Article originally published by EXAIR: LINK)
So, what is sound?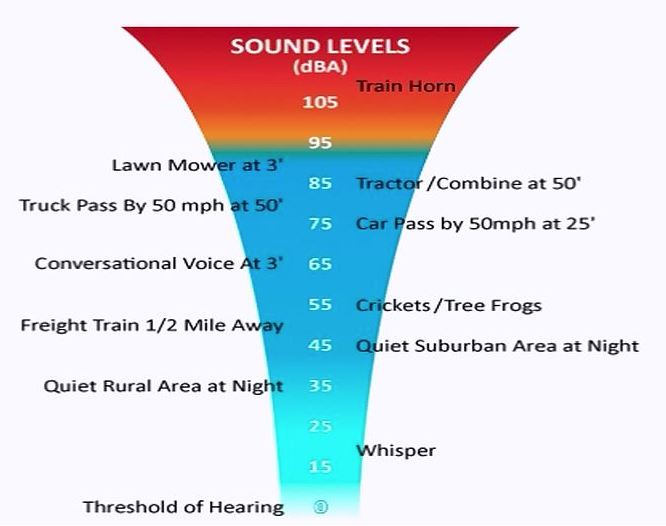 Sound can be defined as "vibrations that travel through the air or another medium and can be heard when they reach a person's or animal's ear". Sounds hit our ears at different pressure levels depending on its strength ("loudness" or volume) and is measured in decibels (dB).
When sound travels and comes into contact with a surface, a portion will be absorbed and another portion will be reflected. Manufacturing environments obviously can be the source of a lot of sound and personnel near the sources should be protected as much as possible. One extremely effective way to do this is to substitute a loud noise source with a quieter one or remove the source all together. PPE can be effective but is much less reliable due to people forgetting to use PPE, using PPE improperly or even deciding for themselves they do not need it.
To substitute or eliminate means something like the strategic placement of air compressor which is not near personnel or recognizing the type of product you choose to use is vital to sound management and the health and safety of people working near the point of use. Many EXAIR products can help you reduce the sound level of your current point-of-use compressed air by replacing commercial air nozzles, open pipes and homemade blowoff solutions with our Engineered Air Nozzles, Safety Air Guns, Air Amplifiers, or Super Air Knives. These products are all designed to minimize compressed air noise and can contribute to lowering the overall noise exposure of your personnel. The additional benefit is that you customers will also typically see a reduction in air consumption which saves money on generating compressed air.
EXAIR's Digital Sound Level Meter is a tool used to identify and quantify the particular noise levels within an area. The source of loud noises can be quickly identified and isolated so corrective measures can be implemented.
Compressed air noise levels often exceed OSHA (Occupational Safety and Health Administration) noise level exposure requirements. EXAIR pneumatic products meet or exceed the OSHA Standard 29 CFR-1910.95(a) and can be used to reduce sound levels in your compressed air environment.
EXAIR has has many engineered compressed air products that can help reduce your sound levels. Our Application Engineers are ready and eager to help assist your sound level decrease projects.
Please contact us at 0741159200 or email info@ren-engineering-solutions.com so we can be a vital part of your successful sound reduction program.