There are many different types of pipes that can be used in a compressed air system depending on your application. Often, when people are presented with different choices, they tend to go for the option that costs less at face value without consideration for the cost implications in the future. When it comes to your compressed air system, selecting the right pipe material will help you save air and ultimately save money in the long run.
The major problems faced in a compressed air system include:
Corrosion of metal pipes in acidic conditions
Rust of metal pipes due to poor compressed air treatment
Leaks at threaded joints.
Safety hazards such as possible rupture of PVC pipes due to reactions with hydrocarbons from oil injected compressors at high temperature.
Pressure loss due to improper pipe sizing and leaks along the piping system
To mitigate these problems, selecting the correct pipe material for your application is key. There are 6 major types of piping material commonly used. This article will guide you on how to select the most suitable compressed air piping for your application, so read on!
1.    PVC pipe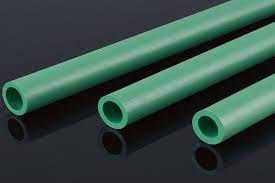 When dealing with compressed air systems, the use of PVC pipes should be avoided at all costs! While PVC pipes are cheap, easy to install and flexible, these pipes pose a great danger not only to your compressed air system but to people working around as well.
PVC pipes experience degradation overtime when used for compressed air systems. The degradation makes the pipe brittle and easy to crack when under pressure. The shattering makes the pipe unsafe for use therefore, consider other options for compressed air piping.
2.    Black pipe

This iron pipe has been in use for decades. Most people prefer it since installation is easy, the fittings are readily available and cheap. Compressed air systems tend to have moisture and rust in black iron pipe is inevitable. The rust will then be carried on with the compressed air piping which will then damage pneumatic tools.
The other issue with black pipes is that depending on the quality of welding the joints are prone to leaks. Leaks consume 20 – 25% of the total compressor output. Therefore, selecting a system that is less likely to have leaks would reduce your energy consumption and ultimately save money.
3.    Galvanized Iron (GI) Pipe
These pipes are used for general plumbing and are less likely to corrode than black pipes. Over time the galvanized layer flakes off and the pipe inevitably rusts. The flakes and rust are carried by the compressed air to the user points.
The debris carried by the compressed air can damage pneumatic cylinders and even cause bodily harm when coming out of a blow gun. When using GI pipe, it is advisable to keep moisture out of the system using a dryer and to use the proper pipe class.
Pipe class is a classification of pipes and components that can be used at a specific pressure and temperature. GI pipe is manufactured in 3 classes. They are:
Class A – the thickness of the sheet used to make these pipes is minimum. This means that it can withstand less pressure than the rest. The pipes are color coded yellow.
Class B- the pipe has medium gauge. The sheet used to make these pipes are thicker than class A and can withstand maximum working pressures of up to 30 bar. The pipes are color coded blue.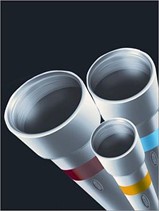 Class C- these pipes have a higher gauge than all the other classes. The pipes can withstand maximum working pressures of up to 50bar.
4.    Copper Pipe
This pipe is an excellent choice for use in a compressed air system. Any condensate within the pipe will not result in corrosion.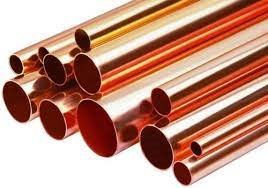 Copper pipes are also naturally antibacterial. They are the piping of choice for medical air and oxygen applications. These pipes are however expensive and require soldering by highly skilled personnel to produce good quality installation work.
5.    Aluminum Pipe
This is currently the compressed air piping of choice. These pipes are lightweight making installation works easier. Aluminum pipes are also resistant to corrosion and have a smooth inner surface. This ensures that the compressed air supplied to your machines is of high quality and the pressure loss within the system is minimal.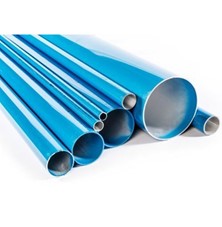 Using AirNet aluminum piping makes your system leak free since the fittings have a push fit connection to the pipes. The pipes are also relatively affordable as compared to Stainless Steel.
6.    Stainless Steel (SS) Pipe
This pipe is a good quality and reliable choice of compressed air since the pipes are strong and corrosion resistant. The stream of air produced from such pipes can be used in food and pharmaceutical industries.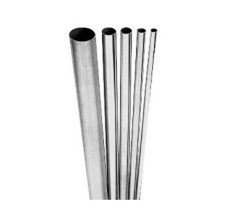 Installation of SS can be a labor intensive if welding or threading is involved. Atlas Copco have however found a more reliable way to make the installation easy and fast by introducing push fit SS pipes.
In summary:
No.
Pipe Material
Pros
Cons
Application
1 
PVC
Corrosion resistant
Light weight
Easy to install.
Cheap to install.
Smooth hence low friction resulting in low pressure loss.
Low mechanical strength
Low temperature capability
Safety hazard due to explosion
Not recommended for use by OSHA
 2
Black Pipe
Has high mechanical strength
Has high thermal capability
Easy and cheap to install.
Prone to corrosion
Prone to rusting
Difficulty in modification after installation
 3
GI
Has high mechanical strength
Has high thermal capability
Easy and cheap to install.
Prone to corrosion
Workshops
Pneumatic applications
Petrol stations  
 4
Copper
Light weight
Corrosion resistant
Resistant to rusting.  
Is expensive.
Relatively lower mechanical strength
Requires skilled labor for installation.
Difficult to modify after initial installation
Medical applications
 5
Aluminum pipes
Light weight making installation easy.
Push fit fittings preventing leak.
Smooth surface reduces friction which reduces pressure loss.
Resistant to corrosion
Relatively expensive
Pneumatic applications
Food companies
Pharmaceutical applications    
 6
Stainless Steel
Corrosion resistant
Has high mechanical strength
Resistant to rusting.
Labor intensive
Expensive to install
Food industries
Pharmaceutical industries  
CASE STUDY: Aluminum Piping
We recently got a client who needed installation of a compressed air system for his printing machines. High quality compressed air was required, and the client specified that there should be minimal to no pressure drop in the system (which is the goal for most people).
From the information provided, we recommended and installed AirNet Aluminum piping. The customer was extremely satisfied with the work. See photos below: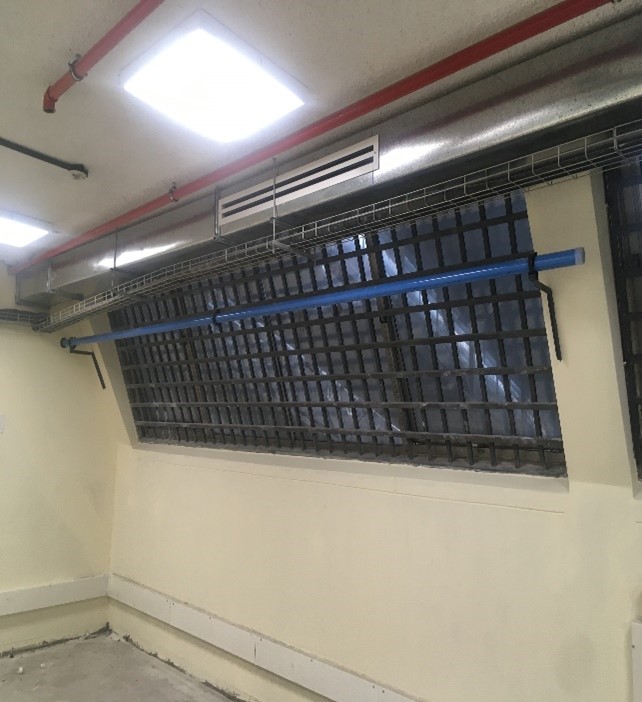 We hope that you can now select the correct material for your application. Feel free to comment or ask questions on pipe material selection or compressed air systems.
To find out more about our installation services, click here.
Sylvia Chemonges
Projects Engineer,
sylvia@ren-engineering-solutions.com
Call/WhatsApp 0741159200