Blowguns are increasingly coming under scrutiny in relation to their safe use.
Blow Gun Types
Blow guns come in many configurations and embody different safety features.

Type 1: Basic Blowgun



The most basic type is a nozzle with an open hole at the end and fitted with a valve to activate the air ON/OFF. These have no inherent safety features.

Type 2: Reduced Jet Velocity Type

Has an extension tube with holes at the base surrounding the main nozzle
This has two effects: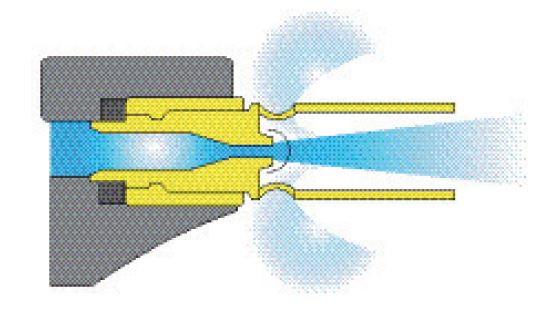 It draws atmospheric air through the holes at the base adding to overall air flow.
The large nozzle has the effect of reducing the velocity of the airstream which reduces the possibility of detritus being projected to the operator.
Type 3: Air Curtain Type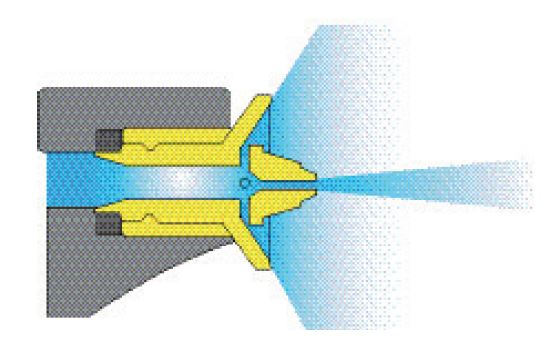 Has a central nozzle surrounded by some means of creating an umbrella shaped air curtain around the main jet of air.
This reduces the possibility of detritus being projected at the operator by the main nozzle.
Recommendation
For safety:
Simple ON/OFF (Type 1) blowgun should be fitted with tamper proof preset regulator set at 2 bar.
This value reduces the possibility of compressed air being injected through the skin.
Note that the cheapest air guns are also the most dangerous to staff therefore its important to ensure that pressure is regulated to mitigate this risk.
Other types (2,3) can be used at normal factory supply pressure of 6 bar.
This is because for type 2,3 holes at the base of the main nozzle vent air in the event of a blockage ensuring that the pressure in the main nozzle is too low to injure personnel.
If you want to find out more about how to improve the safety of your blowguns and other point of use equipment contact us now! 
(first published online)