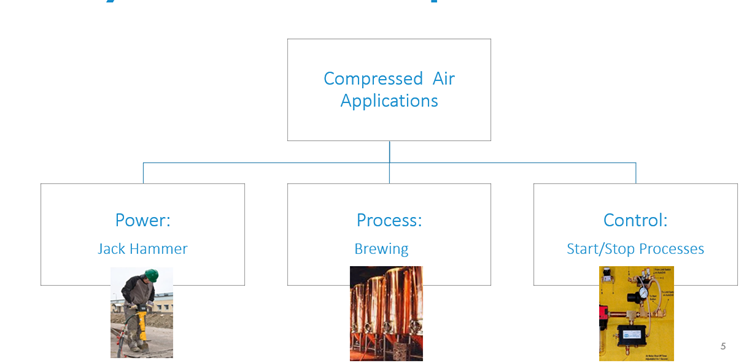 In our first article in this series we looked at what is compressed air?. In this follow up article we look at where compressed air is used. Compressed air can be found in virtually all fields of commerce and industry. It is used in the primary products industries supplying semi-finished raw materials to manufacturing industries, in the manufacture of heavy goods, consumer products in processing and packaging, transportation, building, construction and in service operations of all industries. (ref. CAGI)
In one factory you will find hundreds of different applications for compressed air.
The applications of compressed air are divided into three broad groups.
Power Service Applications:
Power service includes those applications in which compressed air is used either to produce motion or to exert a force, or both. Examples are linear actuators, pneumatic tools, clamping devices, air lifts, and pneumatic conveyors.
Process Service Applications:
Process service is defined as any application in which compressed air or other gas enters into a process itself. Examples are combustion, liquefaction and separation of gas mixtures into components, hydrogenation of oils, refrigeration, aeration to support biological processes, and dehydration of foods.
Control Applications:
Control applications are those in which compressed air or gas triggers, starts, stops, modulates, or otherwise directs machines or processes. Control applications occur throughout power and process use. Some steady-flow process plants are virtually completely automatic. Detroit-style, batch-type manufacturing may be highly automatic and pneumatic controls have special attributes that make them ideal for many situations.
It is difficult to imagine an industry that does not use compressed air in some part of its process. Compressed air finds its application in most industries including manufacturers of steel, chemicals, cement, textiles, food and beverages, plastics, automotive, pharmaceuticals, and consumer products.
This is the reason compressed air is commonly known as the fourth utility in manufacturing after water, electricity and gas.
To find out more about our compressed air solutions check our products and services pages or reach out at info@ren-engineering-solutions.com or 0741159200.