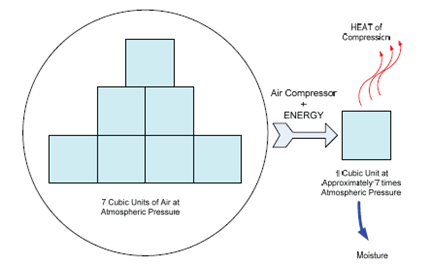 Compressed air is one of the best unkept secrets of our modern world. Many times when I introduce our company and say that we work with compressed air I get a blank stare. To make it relatable I usually say that compressed air is what you put in your tyres at the gas station. That gets a few nods of acknowledgment.
With few exceptions everything that we own and use that originated in a factory would not be available without compressed air. In a future article we will look at the uses of compressed air.
Compressed Air is air whose volume has been decreased by the help of a compressor. Like the air we breath compressed air consists of Nitrogen, oxygen and water vapor. Heat is generated when air is compressed and as the air pressure increases. A bicycle pump is an example of a simple compressor.
Compressed air is potential energy very much like a compressed spring. It takes energy to compress a spring/air ie pressure must be applied. The resulting high pressure air is distributed to equipment or tools where it releases useful energy to the operating tool or equipment as it is expanded back to atmospheric pressure
Benefits of using compressed air
Compressed air tools tend to be smaller, lighter, and more maneuverable than electric motor-driven tools because the don't require their own heavy internal motor.
Compressed air tools are more reliable:

They have fewer moving parts and require minimal maintenance.

They deliver smooth power and are not damaged by overloading.

Compressed air tools increase productivity:

Air tools have higher torque ratings and RPM which means they work quicker.

It's very easy to quickly swap one tool for another using quick release.

They tend to be more powerful than electric power tools

Compressed air tools are safer:

They do not have the potential hazards of electric devices, particularly in damp areas or areas with explosive gases.

Compressed air is abundantly available all around us and easy to distribute using piping
Disadvantages of compressed air
Compressed air tools are much less energy efficient than electric tools
Compressed air tools can only be used in a workshop setting with compressed air
Air is free but compressed air is expensive.
To find out more about our compressed air solutions check our products and services pages or reach out at info@ren-engineering-solutions.com or 0741159200.