Have you ever thought about leak detection for your compressed air system? With the right leak detector compressed air leaks worth thousands of shillings can quickly be found in your system. 
Compressed air leak losses can remain undetected for years simply because you cant hear them due to production noise. 

What are compressed air leaks?
Compressed air leaks are demands for air that create no value. They consume flow needed for other productive uses. Leaks are by far the biggest problem in most compressed air systems. 
What are the effects of compressed air leaks?
Leaks release expensive compressed air directly into the atmosphere without producing any useful work. Leaks account for 10-30% of compressed air output. We have found plants with up to 60% leak losses. Leaks can also lead to system wide problems including:
Fluctuating system pressure, which can cause air tools and other air-operated equipment to function less efficiently, possibly affecting production
Excess compressor capacity, resulting in higher than necessary costs.
Decreased service life and increased maintenance of supply equipment (including the compressor package) due to unnecessary cycling and increased run time
Recommendation
Our 3 step process helps you locate, monitor and eliminate air leaks. 
STEP 1: Locating and Tagging Leaks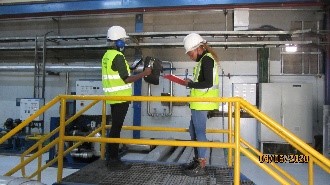 We provide leak detection services using a high-quality Ultrasonic leak detector. The method works because as compressed air is released into the atmosphere the turbulence creates ultrasonic noise inaudible to the human ear but detectable with the right equipment.  

STEP 2: Documentation and quantification of leaks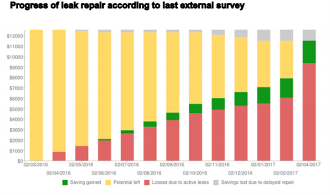 We provide a web application that allows you to monitor all activities of seeking and repairing leaks. The system:
Allows you to monitor energy savings and reduction of air consumption.
Guarantees better traceability and control of leak management.
Allows you to monitor the number of detected leaks, estimated volume lost and cost per year. You can also see progress as leaks are repaired.
Allows monitoring savings and cost of parts needed to repair leaks and the payback period.
Allows entry of every leak into the system and provides an automatic calculation of volume of leak and cost calculation.
STEP 3: Leak Repair
We provide leak repair services for any type of pipework from Galvanised, Stainless steel, mild steel etc.
Step 3 is the most often overlooked and critical part of the process. Once leaks are found and quantified its critical to repair them to benefit from the savings.
If you want to learn more about our Leak Audit Services Contact us Now!