With the prevailing high energy costs you are surely thinking of new ways to reduce energy consumption – we have a solution for you!

Like many manufacturers, you may be looking for new ways to reduce energy consumption. Obvious steps like using energy-efficient equipment and eliminating leaks offer immediate savings. But even when these two steps are taken, there is potential for further energy savings. 

Energy costs can account for up to 80% of the total cost of producing compressed air. Statistics show that compressed air typically accounts for around 12% of total energy costs for industrial manufacturers – in some cases this figure can be as high as 40%.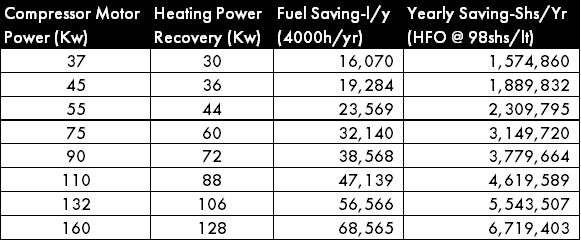 Table: Potential Energy savings from Heat recovery. 

However, the good news is that between 70-94% of the energy consumed by air compressors can be recovered. Without any form of energy recovery, this energy is lost through radiation to the atmosphere or cooling systems. By extracting heat from compressed air, we can reduce the need to purchase energy for heating, thereby reducing CO2 emissions and lowering operating costs.

Due to the prevailing high costs of energy, these savings can be significant. 
How can heat be recovered in compressed air systems?
Coolers remove heat from compressed air using air, water or oil and work on the principle of heat exchange. The heat removed from the hot compressed air is discharged into the cooler, which is specifically designed for the compressor's flow rate and heat transfer requirements.
There are two main types of coolers; air or water. Each type of cooling system has its own advantages and disadvantages.
A heat recovery system can recover up to 94 % of the energy supplied to the air compressor. The heat energy recovery in the case of water-cooled compressors may involve additional components, such as pumps, a heat exchanger and control valves. That is why it only makes economic sense for compressors of more than 22 kW. However, the resulting cooling water can generate hot water with a temperature of up to 90°C, which can be used for a variety of processes.
How can heat be recovered be used in a factory?

Here are some examples of how the hot water recovered can be used:
pharmaceutical industry (drying and sterilization),
food and beverage (pasteurization, drying and cleaning),
textiles (coloring),
chemicals (various refinery processes)
electronics (clean room sterilization)
In most cases the savings are substantial and some energy recovery systems even pay for themselves after just one year.
(ref: OMEGA Air)
To get started on your savings journey Contact us Now!